Rangers: Swift action against Covidiots absolutely essential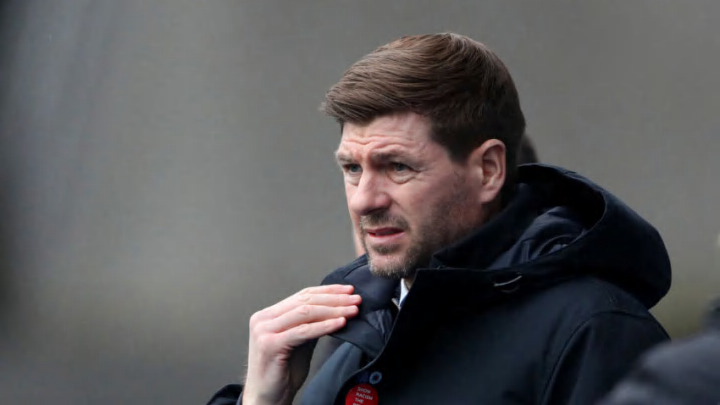 GLASGOW, SCOTLAND - FEBRUARY 13: Steven Gerrard, Manager of Rangers looks on prior to the Ladbrokes Scottish Premiership match between Rangers and Kilmarnock at Ibrox Stadium on February 13, 2021 in Glasgow, Scotland. Sporting stadiums around the UK remain under strict restrictions due to the Coronavirus Pandemic as Government social distancing laws prohibit fans inside venues resulting in games being played behind closed doors. (Photo by Ian MacNicol/Getty Images) /
Rangers are currently investigating yet another breach of Coronavirus restrictions by players, here's why this needs to be dealt with asap…
In all honesty, I was seriously considering giving this entire topic a miss. It's been plastered all over the media, unsurprisingly spilling out into the realms of non-sport News, and doubtless you've been well acquainted either by hearing Nicola Sturgeon talk about it being "not aon!" or you've made the mistake of checking social media since Sunday.
For those living under multiple rocks, or as Kilmarnock fans call it "Rugby Park", here's a brief overview. Not too many months after Jordan Jones and George Edmundson broke COVID-19 restrictions, and were subsequently hit with a 7 match ban by the SFA only to be shown the door by Rangers, more players in light blue thought it would be OK to go ahead and do the same by having a party. That's really, literally it.
More from Rangers FC News
The media is, at this stage, not revealing any names, but it's fairly well known that among those involved was Calvin Bassey and Nathan Patterson. The club have been pretty tight-lipped, releasing only a statement to suggest it was being internally investigated. The police, for their part, have confirmed the party did take place and that fixed penalty notices were issued to the attendees, a legalistic tip of the iceberg.
This, of course, all set the ball rolling on a huge media circus, with the aforementioned Sturgeon giving Rangers a verbal slap on the wrists and making thinly veiled threats about the future of Scottish football. You can only but imagine how much she enjoyed doing that. In fairness though, the reaction has been savage from every corner.
Ex-Rangers legends such as Brian Laudrup and Stuart McCall, among others, have come out strong on the whole situation with the latter describing the players involved as "the thickest people on the planet". On review, it's hard to argue.
The fact of the matter is, Rangers are mere weeks away from the finish line of their most important season in decades. The unbelievable amount of goodwill built with the fanbase as they defied every single odd, including the barriers of a system set up to intentionally deny them success, would be borderline impossible to flush down the toilet outside of something so overtly stupid as this. Yet here we are.
The threats towards the Gers and their title claims are probably empty, let's make no mistake. It would be very difficult to deny the light blues the Scottish Premiership even if a plurality of the squad were involved in this lunacy. That said, it could easily be agreed that a period of quarantine is required for the entire team and that would leave us very much up a creek without a paddle for the games that remain.
Make no mistake, Steven Gerrard has been massively let down here and even more fitting it should be by the hands of the players who broke through under his tenure.
This all happens some 4 wins required away from a historic 55th title. Such unbelievable stupidity beggars belief and is, ultimately, the reason I decided to address the situation here. That and, on the more positive end of the scale, with the Europa League returning this week it would be really, really nice if we could get this all out of our system and draw a line under it.
That's not to say Rangers should hand wave it away. The accusations are serious – and we'd all be calling for blood if Celtic did it (again) – so decisive action must be taken, and taken urgently. This whole sordid ordeal threatens to, at the very least, cast a shadow over a year of hard graft and accomplishments. Make no mistake, Steven Gerrard has been massively let down here and even more fitting it should be by the hands of the players who broke through under his tenure.
I've seen many Bears calling for sackings, in less flattering words of course. That's probably not going to happen, especially if we are talking about a larger group from the squad. Suspensions followed by loans, as happened to Jones and Edmundson, seems more likely to me. That said, it's important steps are taken to absolutely disassociate Rangers from the stupidity of these renegades and, if that does end up with sackings, that's something that has to be accepted by players and fans alike.
There is no room for sympathy here. They've dragged the club kicking and screaming into disrepute, they've opened the door for questions to be asked of our standards, they've endangered the 55. It would all be a bridge too far for James Tavernier, but for those behind him in the pecking order of importance, they've forfeited the right to be treated leniently.
Ultimately, it's on Rangers to deal with this in a way that will ensure no further action needs to be taken and, similarly, that it doesn't completely derail this most historic season. The best way to accomplish both is to act quickly and let Steven Gerrard use tomorrow's pre-match press conference to actually talk about the match. Nobody wants to talk about this event, I know I don't, but the sooner we do the sooner we can all move on.