Rangers: New transfer targets may be exactly what we need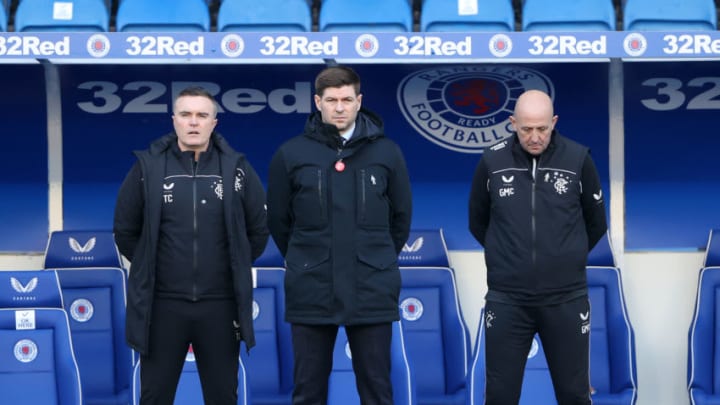 GLASGOW, SCOTLAND - JANUARY 02: Steven Gerrard, Manager of Rangers, Michael Beale, Assistant Manager of Rangers and Gary McAllister, First Team Coach of Rangers stand for a minutes silence in memory of those that lost their lives in the Ibrox disaster prior tothe Ladbrokes Scottish Premiership match between Rangers and Celtic at Ibrox Stadium on January 02, 2021 in Glasgow, Scotland. The match will be played without fans, behind closed doors as a Covid-19 precaution. (Photo by Ian MacNicol/Getty Images) /
Rangers have been recently linked to Bournemouth FC duo Jack Simpson and Nnamdi Ofoborh, but face English competition for both…
Hands up if you've missed the summer transfer window speculation? Imagine how many Celtic fans are furiously waving their arms in their air right now. For them, it was a simpler time, with simpler pleasures. Champions again, thanks to the SFA gifting them the title, getting stronger with the addition of "clear Premier League quality" ™ centre-back Shane Duffy, Rangers set to lose Alfredo Morelos to a new team every day – and, of course, the record 10 in a row just waiting to be collected.
Now look where we are now. Instead of thanking the SFA for their undeserved Premiership present, they are accusing them of having some bizarre, bewildering anti-Green bias because they dared question how the team could holiday in Dubai during a pandemic and bring said pandemic back to Scotland with them. That "clear Premier League quality" ™ centre-back is so hilariously bad that most pub teams would have caution before letting him in. And Rangers? Well, Rangers are coasting to the record 55th title.
One thing that hasn't changed is the transfer speculation. It's inevitable the Gers will shed some stars, whether in January or in the summer, and good results have only increased their value. That said, Steven Gerrard isn't taking a back seat and recruitment seems as active, if not moreso, than since his arrival.
More from Rangers FC News
Two names floating around these days are Jack Simpson and Nnamdi Ofoborh, both from troubled Bournemouth. The Cherries drop into the Championship last season saw a fire sale of talent that has seemingly remained unabated, despite their continued presence in the playoff places. Simpson, 24, and Ofoborh, 21, are definitely on the lower end of that scale, but there's obviously some talent, if somewhat raw, there that is being noticed and desired – and not only by Rangers.
Simpson, a central defender though perhaps not yet "clear Premier League quality" ™, has already had several bids confirmed by Cardiff. The Bluebirds, as you probably heard, sacked their manager a few days back, but interim gaffer Jason Tindall made the claim that the club had offered £750,000 for Simpson and it had been accepted. Whether that's accurate or not remains to be seen. It's veracity wasn't helped by his quick "I don't know the ins and outs" addendum, but £750,000 would be rather low for a player who had minutes at the highest level.
So too, Oforborh, a Nigerian international midfielder, has seen interest from League One Charlton with boss Lee Bowyer expressing fear that a race for the player could result in his side being priced out of it altogether. What is it with EFL sides and talking about other team's players? I suppose in Bowyer's case he's getting his excuses in nice and early there to subdue the, no doubt long suffering, fans about the club's lack of positive lateral movement.
talk of the title is still premature and injuries, lack of form or COVID-19 may cause issues yet.
In any case, what are Rangers' chances here? Simpson is a bit up in the air, I think. The light blues would need to move quickly, if indeed a bid has been accepted, so I would expect we'd hear something soon.
Oforborh is a bit more likely, if indeed the rumour of our interest is genuine. The player isn't going to want to move to League One, regardless of how many minutes he's getting, unless there isn't a better option on the table. The Scottish Premiership is clearly above League One level, not that you'd know if you watch Celtic a lot, and arguably above Championship level at times too – so it's easy to see which option would be favourable to the lad himself.
In the end, we've seen how far rumours can go all too often in the past. While Rangers themselves have already notified Aberdeen of interest in Scott Wright for the summer, it might be necessary to reinforce the squad earlier rather than later. As we've suggested before, talk of the title is still exceedingly premature and injuries, lack of form or COVID-19 may well cause issues yet. All the same, though I hated it at the time, last transfer window was the precursor to the current, dominant, season – another arrangement like that would have me furiously waving my arms around too.